*Disclaimer- I am not a medical professional nor have any of these statements were evaluated by the FDA. They are just my personal opinions and experiences. 
Living in Young Living Denial
Those of you that know me in real life know that I avoid trends like the plague. I have always been a little crunchy, off the beaten path, do my own thing kind of person. So, when I heard about the magic of essential oils, I was naturally intrigued. The idea of bucking the system and using essential oils instead of traditional, commercial products is right up my alley.
Since everyone and their brother uses Young Living Essential Oils, I refused. I tried every other company under the sun. The health store, the cheap options, the Amazon version, you name it, I tried it. Yet for some reason, they didn't work. At one point I even landed myself in the doctor's office covered in an angry rash from using fake Tea Tree oil to cure Poison Oak- not my finest moment. My husband was convinced that essential oils were a hoax. I was certain they weren't- I just had to find the right ones.
Last winter when we were battling my son's never-ending illnesses, I was willing to try absolutely anything to support his little immune system. I knew that a friend of mine used Young Living Oils so I reached out to her as a last ditch effort to make my baby feel better.
We honestly noticed a difference right away- and not just in him. In our entire family. These oils didn't just have a nice smell for a bit- they actually delivered all the amazing benefits I'd read about. It's safe to say we were quickly hooked. Now, almost a year later, essential oils are now a necessary part of our everyday life. Thanks to essential oils I can support or health, make high-quality cleaning products, personal care products and more.
What makes Young Living Oils different?
In short, quality.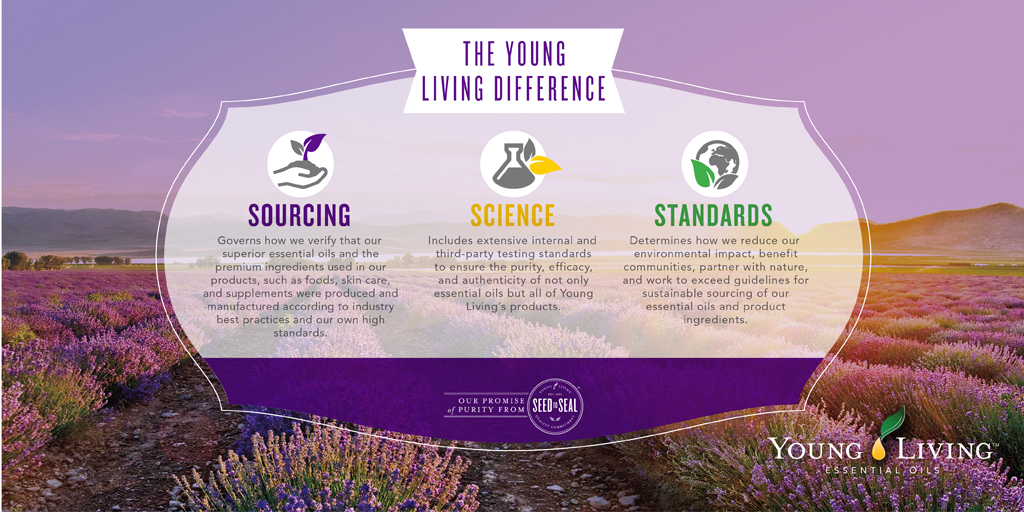 There is no real regulation in the US about what you can market as a therapeutic grade essential oil. Therefore, companies can add chemicals, fillers, or other gunk making them unsafe for internal use or to be used directly on the skin (like in my fake Tea Tree experience). Young Living does not. They operate by the Seed to Seal promise. Which means I can rest assured that what is going into my bottle is pure, natural goodness.
So although I am the queen of cheap and Young Living is a bit pricier than my drugstore versions of essential oils, I prefer to pay a little more for something that I know is high quality and will benefit my family, saving my money in the long run.
Want to be oily too?
Option 1: Retail customer– You spend 24% more for your oils but you can purchase just the oils you need at the moment.
Option 2: Wholesale member– Sign up for a wholesale membership and get one of the Premium Starter kits which gives you $300 worth of oils and a high-quality diffuser for only $160 ($160-$260 depending on the diffuser you choose). This starter kit includes oils that everyone needs (yes I said needs) in their home. No fluff, just the basics- like all of the goodness you see below. (Pictured to the left is the Premium Starter Kit and to the right is the Thieves Starter Kit- you can choose which option best fits your needs.) Plus, I will send you an additional goody bag of surprises and lots of information to get you started off right.
Ready to buy some oils? Scroll down to the end. Still not sure? Read the FAQs first.
Frequently Asked Questions
Do I have to sell oils if I become a wholesale member?
Of course not! Actually, 90% of wholesale members don't sell oils. They just purchase from Young living for their awesomeness. However, if you are interested in the business side, I'd be happy to help you get started.
Why are they so expensive?
Remember that whole quality thing from before? As you can see off to the side, it takes a whole lot of the plant to make one little bottle. So, because you are getting the actual plant extract instead of a factory made version, you pay a little more. But, thanks to the amazing quality- a little bit goes a long way. When you break the cost down by drop, it is really quite inexpensive.
Do I have to make a minimum purchase each month?
Not at all! You have to spend at least $50 per year to maintain your wholesale status which I promise you is not at all hard to do.
How will I know what to do with the oils?
Well, my friend, that is where you lucked out. When you order your starter kit, I come along with it! (Not really in the box, figuratively speaking.) I will guide you through not only how to use your starter kit but the rest of your oily journey. I am very passionate about helping people find simple ways to live a happier, healthier life. Am I an expert? No. But if I don't know the answer, someone else will. Plus, I get to add you to our awesome Facebook group to help support you as well.
Does Young Living only sell oils?
No way! I think it would be easier to list the items they don't sell… With over 600 items in the catalog and more coming all the time Young Living makes it very easy to replace pretty much anything from makeup, and lotion to cleaning supplies and supplements with a healthier, oilier option.
Can I just try a product without buying the whole kit?
Of course! You will just select retail member instead of wholesale when you are following the steps below to purchase. Or, if you still want the discount contact me and I can let you in on a secret trick ;).
If you have any other questions not listed, please ask in the comments below or email me at vanessa@creativemoneymasters.com and I will be happy to help you out.
Ready to order your Premium Starter Kit?
Awesome! Click on the video to find out what to do next. (Or just keep reading.)
Click here to head over to the Young Living site and select "wholesale member" (or retail member if you want to pay 24% more).
Fill your information but make sure the enroller ID and sponsor ID both say 11573359. This tells me you signed up so I can get your goodies out to you ASAP.
Select which diffuser you would like in your Premium Starter Kit (I have the Home Diffuser and I love it.)
You can skip the Essential Rewards part for now (unless you know you are destined to be an oil junkie and will be ordering on a regular basis. In that case, you might as well start getting points back on your purchases from the get-go.)
Finish the checkout process and then send me an email at vanessa@creativemoneymasters.com so that I can expedite your additional goodies.
Please let me know if you have any other additional questions, concerns or have any issues with the process.